Create a comfortable oasis anywhere on your property with an Open-Air Cabana
Our newest addition for beautiful outdoor living!
Bring a resort feel to your deck, patio, or pool. With a wide array of shapes, sizes, and cover styles to choose from, this shaded paradise will be there for you when it's time to relax and enjoy the outdoors.
These freestanding shade solutions are perfect for homeowners looking for a private oasis next to the pool, on their patio, or on an existing deck … or anywhere else.
Perfect for resorts, and vacation rentals, too.
SHAPES + STYLES + FEATURES
The Cabana Shade Structure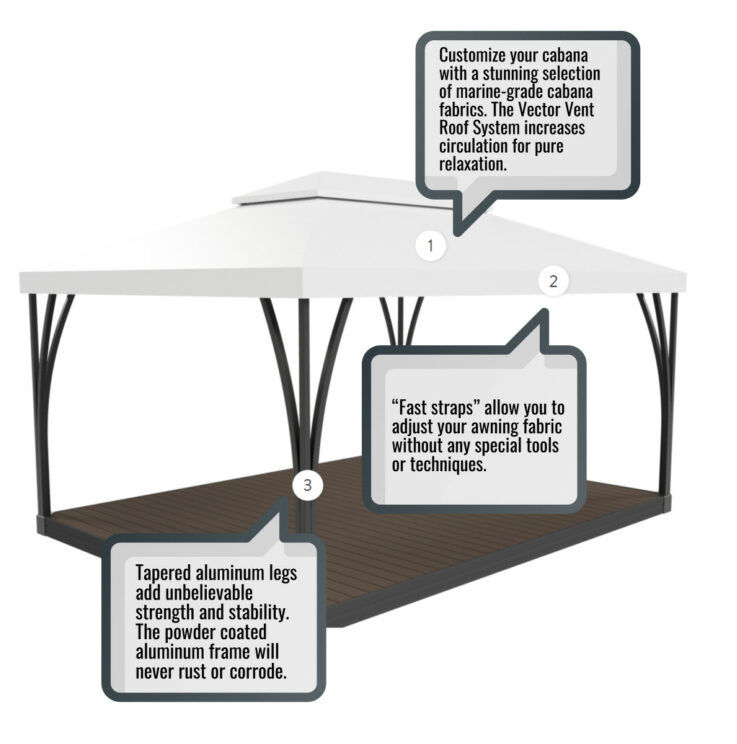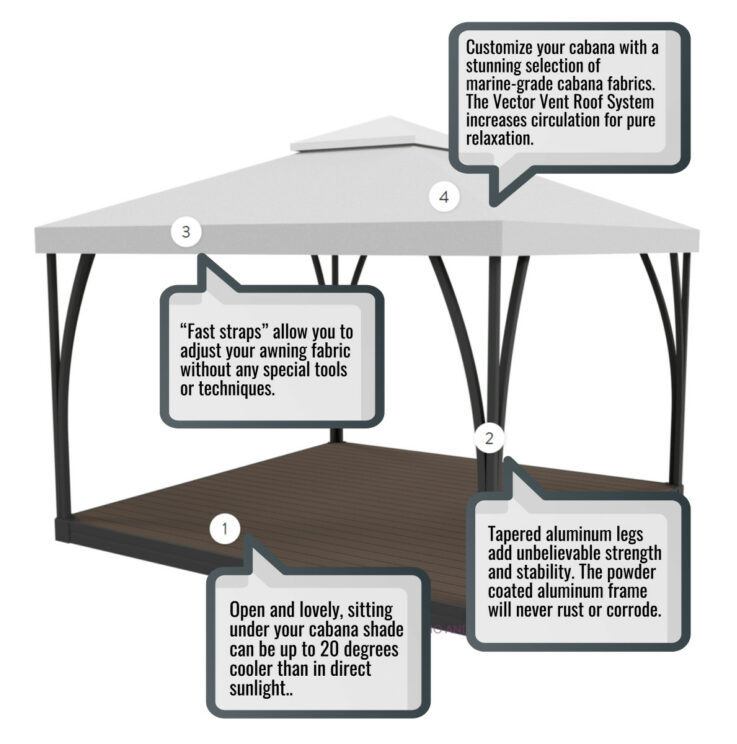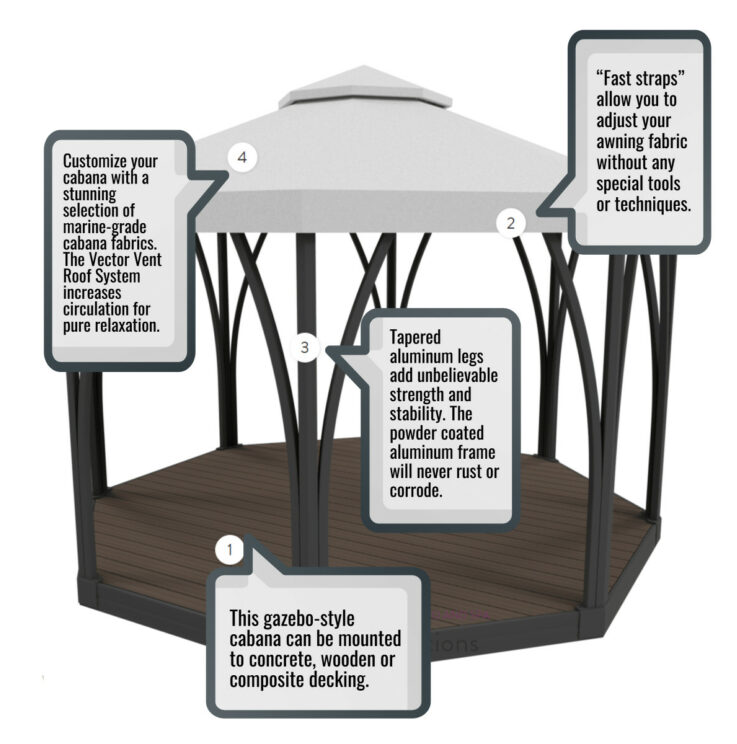 Choose from eight low-gloss, lightly textured finishes or a high-gloss silver metallic finish that resembles polished aluminum.
Customize your cabana with a stunning selection of marine-grade cabana fabrics.
MORE: Info + Features + Options
THE SPECS
Rectangle Cabana
12′ x 16' Rectangular Cabana

Headroom: 6′ 8″ (under valance)

Height*: 10′ 2″

Width: 12' 2″ x 16' 1" (outer side)

Square feet: 196 sf
Square Cabana
12′ x 12' or 16' x 16' Square Cabana

Headroom: 6′ 8″ (under valance)

Height*: 10′ 2″ to 10′ 11″ (depending on model)

Width: 12' 2″ to 16' 1" (outer side, depending on model)

Square feet: 148 sf to 259 sf (depending on model)
Octagon Cabana
13′ or 15' Octagonal Cabana

Headroom: 6′ 8″ (under valance)

Height*: 10′ 2″ to 10′ 11″ (depending on model)

Side Width: 5′ 5″ to 6' 1" (outer side, depending on model)

Overall Width: 13′ to 14' 8" (depending on model)

Square feet: 142 sf to 179 sf (depending on model)
CORNER CURTAINS + PRIVACY PANELS
Want more privacy and shade? Add corner curtains and privacy panels for a completely customizable resort vibe. With three curtain and panel color options and coordinating ties that match your roof fabric, you'll have a space that beautifully matches your outdoor style. Draw the fabric across when you want to block the sun or neighbors for the ultimate in privacy and protection.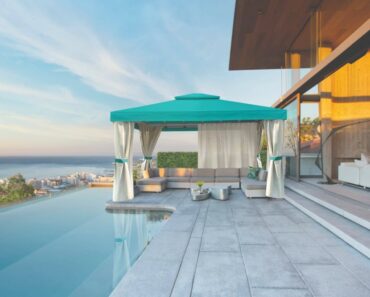 LIGHT + FAN BRACKET MOUNTING KIT
Add comfort and convenience to your open-air cabana with a light and fan bracket mounting kit. Equipping your cabana with a fan can make warm weather days breezy and beautiful. Or, add a light for night-time enjoyment. Your light and fan bracket mounting kit can even support an outdoor fan with a light built in for the ultimate in cabana enjoyment.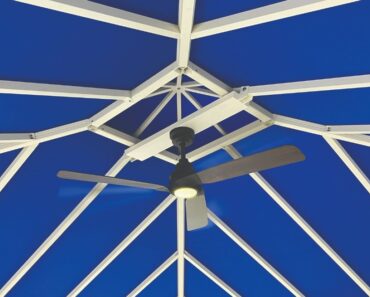 FABRIC TOP
When you want an outdoor cabana with fabric that is as strong as it is beautiful, SummerSpace is the industry-leading authority on products that are built to last. The Open Air Cabana features a stunning and durable Tempotest® fabric top. With a selection of 24 linens, stripes, and solids, you can customize your cabana exactly the way you want it.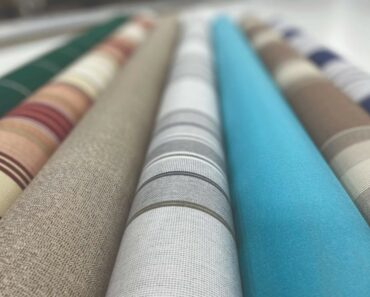 VECTOR VENT ROOF SYSTEMS
Your Open-Air Cabana features a cupola ventilation system for maximum comfort and durability. The Vector Vent Roof System is made with industrial strength aluminum and color matched to your cabana legs. Function and beautiful design meet in a product that will never rust or tarnish.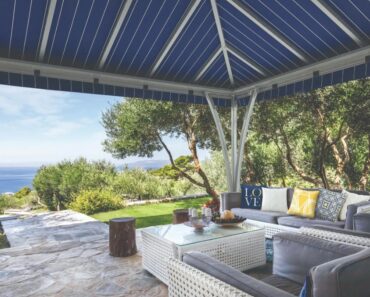 EASY ROOF TENSIONING SYSTEM
The Open-Air Cabana "fast straps" make securing and smoothing out your cabana fabric as quick as can be. These owner-friendly roof tensioning straps pull and secure easily – no tools or techniques needed. Simply pull the strap and secure it tightly to keep your roof system taut and beautiful.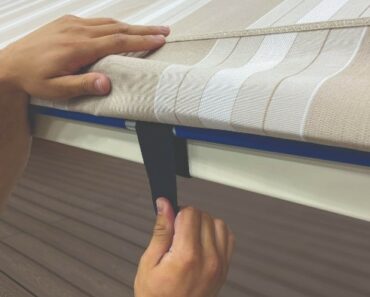 ANCHORED FOOTING
With an anchored footing system, your SummerSpace Open Air Cabana can be secured to concrete or heavy wooden or composite decking. Three anchor screws per leg secure your cabana to a firm foundation – allowing it to withstand virtually any weather that comes your way.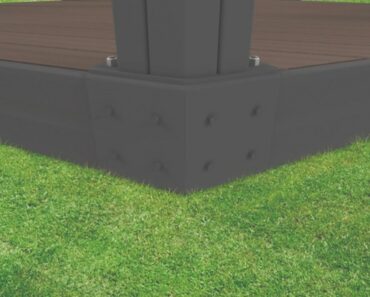 TAPERED LEG DESIGN
This Open-Air Cabana is unique from other shade structures. With a tapered leg design and a reinforced, inverted buttress system, your cabana is manufactured for the strength and support you need in a product that is made to last. Stylish and beautiful, you'll appreciate the added benefits that come with a well-designed premium cabana.